Charles River Wheelmen ride bikes and bicycles along the Charles River(credit: Charles River Wheelmen)
– By Lauren O'Neill
Ever biked in Boston? How about with kids in tow? The two don't usually mix well. Between cars and pedestrians it can be a stress-inducing experience to say the least. So, if you are sick of dodging proverbial bullets and reeling kids in, and are looking for a safer and more laid-back family friendly ride, try any one of these gems.
Paul Dudley White Charles River Bike Path
Don't let the distance scare you away! This loop may seem a little long for the kids at 18 miles in total, but it can easily be broken up into shorter increments. Start at any point on the Cambridge and Watertown sides and from most locations on the Boston side (excluding the Longfellow, BU Bridge, & Storrow Bridge Foot Bridges) Enjoy at your leisure, there are plenty of places to stop to catch your breath or have a picnic. Find a complete map of the loop on the MassDOT website and more information on the Mass DCR website.
Franklin Park Loop
The "Loop" is an easy, scenic 2.5 mile-ride that follows Circuit Drive around Franklin Park Golf Course. The Golf Clubhouse or the park maintenance road, in front of the Shattuck Hospital, make great starting points. There's an arched stone bridge over Scarboro Pond, and Mother's Rest sitting area just down from the Clubhouse that provide that wonderful places to stop for a rest and take in the view.
CBS Boston Insider's Tip: The main park road is called Circuit Drive by park locals, Jewish War Veterans Drive on Mapquest, and Franklin Park Road by the post office. If you have questions or need directions visit the Boston Parks & Rec. website.
Jamaicaway Bike Path
This trail starts at Route 9 near Leverett Pond and continues along Jamaicaway to Jamaica Pond. It follows the bridle path of Frederick Law Olmsted's 1891 design. Jamaicaway connects to other trails, like Brookline's Muddy River path — which is another great family friendly ride!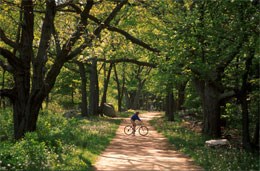 Battle Road Trail
Concord, MA
If you are tired of the fender-to-fender bike congestion in the city, try the Battle Road Trail. Even in the height of the summer this trail is the road less traveled by. This five-mile route is part of the Minute Man National Park in Lincoln & Concord Ma., connecting historic sites from Meriam's Corner in Concord to the eastern boundary of the park in Lexington. If you are looking for a historical perspective try a free guided bike tour Sunday afternoons June through October.
For directions visit the Minute Man National Historic website.

Always remember, safety first; so grab your helmet and go have some fun!
Looking for more information? For everything you ever need to know about biking in and around the Boston area, take advantage of the Bike Resources put together by the City of Boston.
Comments (3)