Find Eric Fisher on Twitter and Facebook
The above photo says it all. On Wednesday evening, 27 states had some sort of Winter Storm/Ice Storm Watch, Warning, or Advisory. Not too shabby for the start of December! Nearly 3′ of snow has fallen in the past couple days over parts of northern Minnesota. Temperatures are plummeting to subzero territory in the west, where parts of Montana won't reach above 0º again until next Tuesday. Citrus farmers are scurrying around trying to save their crops from a deep freeze in California. Mother Nature throwing a temper tantrum, and fortunately for us most of that mess is going to stay away from here for the next few days. We miss out on the brunt of the cold and the snow. However, our fortunes may change by the end of the weekend.
How'd you like to give this forecast a try? WRF (Courtesy WeatherBell) shows how the next 36 hours will bring all sorts of weather from the sky for the southern U.S. Rain, sleet, snow, freezing rain. Not fun for travel.
First off, a bit of a tricky call overnight. Clear skies early allow temperatures to fall back into the 20s and low 30s. Then the clouds move in, capping the temperature drop and even bringing most towns up a few degrees. But as moisture continues to increase, some fog and drizzle may develop late. With those cold temperatures, there could be some patches of freezing drizzle or fog freezing on contact. So be very careful traveling, particularly between midnight and 7am. Central Mass & southern NH will be most at risk for this to occur.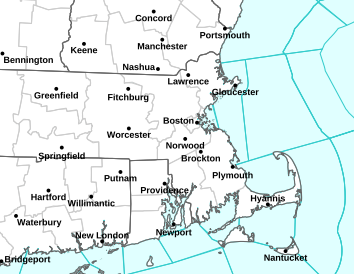 The Freezing Rain Advisory that's posted 2 AM through 7 AM from the NWS
Frigid air in the west, record heat in the southeast, but pretty seasonable stuff around here. While much of the nation will see wild swings (areas under Ice Storm Warnings were in the mid/upper 70s today), we'll stay steady. Highs should bump up within a few degrees of 50º both Thursday and Friday. In December, we'll take it! To go along with the relatively mild stuff, we'll see a lot of clouds through the end of the week. But that being said, not a lot of rain. Some areas of drizzle and a few showers will pass through time to time, and I'd definitely keep an umbrella or rain jacket nearby. Through Friday evening, it won't add up to much, though. Maybe .25″, tops.
RTMA (Real-Time Mesoscale Analysis) surface temperatures Wednesday afternoon. Big extremes across the country!
As more moisture flows up the East Coast on Friday night, we may be able to manage a steadier rainfall. The highest chance of this happening would be south of the Mass Pike. There are some discrepancies in the models still regarding what we see as this rain moves out. Most point to some snow on the backside, which could coat the ground or add up to an inch or two across higher elevations. A couple have more significant moisture (and more snow) before it all heads out. I'm favoring some snow, but nothing too wild with this for now. So we may end up to a fresh wintry coating of white on Saturday morning, and in any case it will head out quickly leaving us with a mainly dry, bright, and colder day. Highs will stay in the 30s to low 40s.
ECMWF snow forecast for Friday night/Saturday morning. I'd say even this may be a little too aggressive, at the moment.
Most of the weekend is quiet and cold. No big issues for holiday gatherings or any outdoor plans/traveling. Ski areas will be nice and frosty with snow guns cranking! There's also a pair of classic New England holiday events going on – the Nantucket Christmas Stroll and Christmas Prelude in Kennebunkport, ME. Weather for both is looking nice and cooperative. Sunday will be well below average in terms of temperature, but if you add in some extra layers and a mug of hot chocolate it's nothing we can't handle.
It's the end of the weekend that still bears watching. A cold-air-damming scenario is still being painted, which is when cold air is funneled down along the Appalachian mountains and precipitations runs up over the top of it. The air above the ground is warmer, and so ice melts and falls as rain. Then it hits the colder air near the surface and either freezes before contact (sleet) or freezes on contact if the cold air is more shallow (freezing rain). This is going to be an issue all the way down into the Carolinas.
The 'pinching' of the isobars down the East Coast is a signal of cold air damming. Note the high placement over northern Maine Sunday night.
There are several variables that need to be considered. One – the high slides east in some of the models by the time the precipitation is moving in here. That would mean a more SE wind flow than a NE wind flow, and more mild air invading. The other thing to watch for will be the timing of the precipitation moving in. If temps can fall back more Sunday night before wintry mix moves in, that would increase the odds of persistent icing for us. But if it speeds up and comes in during the day, that task may be more difficult. And finally, the dewpoints during the onset are important, because evaporational cooling could help drop many towns down a few degrees (they're expected to be in the 0s/10s to start). In any case, I'm not too worried about damaging ice for coastal zones because the wind will be off the Atlantic, which is about 46º right now. Any significant icing would likely be held to interior sections of New England.
So in short, the timeline, 4 days out, looks like this –
– Wintry precip (most likely snow) starts to fall sometime Sunday evening across the whole area
– Snow will transition over to sleet and freezing rain during the night
– Sleet and ice change over to all rain near the coast, but continue inland by the morning
– The potential is there for a significant icing event for interior New England, which would be on top of snowfall, creating a pretty nasty travel scenario for Sunday night and Monday. Power outages would also be a possible consequence.
Of course, the picture gets more clear and the forecast comes into more precise focus as we get closer. Stay tuned!
Comments