Find Eric Fisher on Twitter and Facebook
The last 7 rainfall events at Boston-Logan read as follows: 0.03″, 0.03″, 0.03″, 0.05″, 0.03″, 0.02″, 0.03″. Oh and there are several 'trace' amounts mixed in, too. Pretty weak stuff, and the extended dry streak has been ongoing since the start of August. We're running at >6″ deficit for most of the area in that time frame, but a lower 3″ deficit for the year (a very wet early summer helps skew those numbers). So we're doing a little dance with some rain in the forecast!
I'd love for this to be an all-day 1.5″ soaking event, but alas that will not be the case. A front running from Canada down to the Gulf is strung out and without a good 'punch' of energy to lift air and squeeze the moisture out. But any rain is a good thing, and the first showers should arrive very near daybreak on Thursday. They should be scattered in nature to start with a couple heavy downpours, and then a more steady rain should develop, particularly across SE Mass, by midday and into the afternoon. That's where the highest rain totals should be found, perhaps as much as .75″ in some towns. I'm thinking more in the .10-.50″ range around and NW of Boston. As the front sweeps through, showers will end from west to east around commute time Thursday evening.
Two other factors at play for this event – temperatures and wind. A southerly breeze will keep temps up Wednesday night, and push them into the low/mid 60s for the first half of Thursday. That's the warmest it will be for quite some time, so enjoy it! As for the wind – it won't be nearly as strong as the damaging gusts we saw last week with a similar pattern. Most gusts will be from the SW and in the 20-35mph range. The wind should be most active in the early morning and then again in the evening as colder air rushes in.
We'll drop down through the 30s Thursday night, and will have a tough time getting off the mat on Friday. Looks like temps will stay in the 42-48º range with gusty NW winds at 20-40mph. Refreshing may be an understatement after the 60s the day previous! And for Friday Night Lights action around regional schools, you'll want to bundle up. Wind chill in the 30s, clear skies, blustery breeze. By Saturday morning most towns will have dipped back into the 20s.
After that cold start, a chilly but quiet day to kick off the weekend. Some high/mid-level cloudiness should increase during the afternoon and evening, but otherwise fine for outdoor plans with highs in the upper 40s. A weak system will pass to our northwest Saturday night and early Sunday without much fanfare. Perhaps just a rain/snow shower or two lingering into the early hours of Sunday, but that's about it.
Monday (Veteran's Day) is where it gets interesting. Most models, including the GFS and ECMWF,  are pointing to an arctic front passing through by late in the day. We may manage to bump into the 50s beforehand, but will plunge thereafter. The floodgates to Canada will open and if things stay on track, the coldest air in a long time will sit over New England. Highs may stay in the 30s on Tuesday (meaning 10s at night), and hover around 40 on Wednesday.
Now there's some chatter about snow next week, and it's not completely unfounded. Some models are oscillating back and forth with a potential storm that could cut across the northern Ohio Valley and toward the mid-Atlantic. And a few runs have also suggested a coastal storm for New England with yes, snow, even in a place like Boston. Before you run out and buy bread and eggs, I wouldn't get too ramped up just yet. Models tend to have greater error over longer time periods, and the confidence of next week's setup is quite low. There is also limited blocking over the North Atlantic and the NAO will still be in a + phase during the storm timing. That would suggest a storm slipping out to our south more likely and then OTS. Take a look at a comparison of 12z models today. It tells the story of how all over the place solutions can be with a low-confidence pattern and a storm more than 7 days out. ECMWF – pretty much nothing. GFS – blockbuster.
In any case we'll be keeping an eye on it, and expect to hear some talk about potential storminess for the next few days before we get a clearer picture. The one thing that intrigues me most is that both the AO (Arctic Oscillation) and NAO (North Atlantic Oscillation) tank after the event next week. Typically, that would suggest a lot of cold headed our way for the 2nd half of the month, and a November that when all is said and done is well below average. Big events also tend to take place when teleconnections change dramatically. So even if we get nothing out of next week, chances are *something* large will happen, somewhere, mid-to-late November. Stay tuned!
And in the tropics, we officially have the most powerful tropical system globally for the entire year. It's name is Haiyan, and it's headed toward ~100 million people in the Philippines. Satellite estimations are showing winds around 175mph (with higher gusts) and a central pressure around 920mb as of Wednesday evening. This perfectly-formed tropical beast will make landfall in the central province of Leyte Friday. That's the same area recovering from a deadly M7.1 earthquake that struck in October. Some slight weakening is expected, but it will still pack a dangerous punch upon landfall.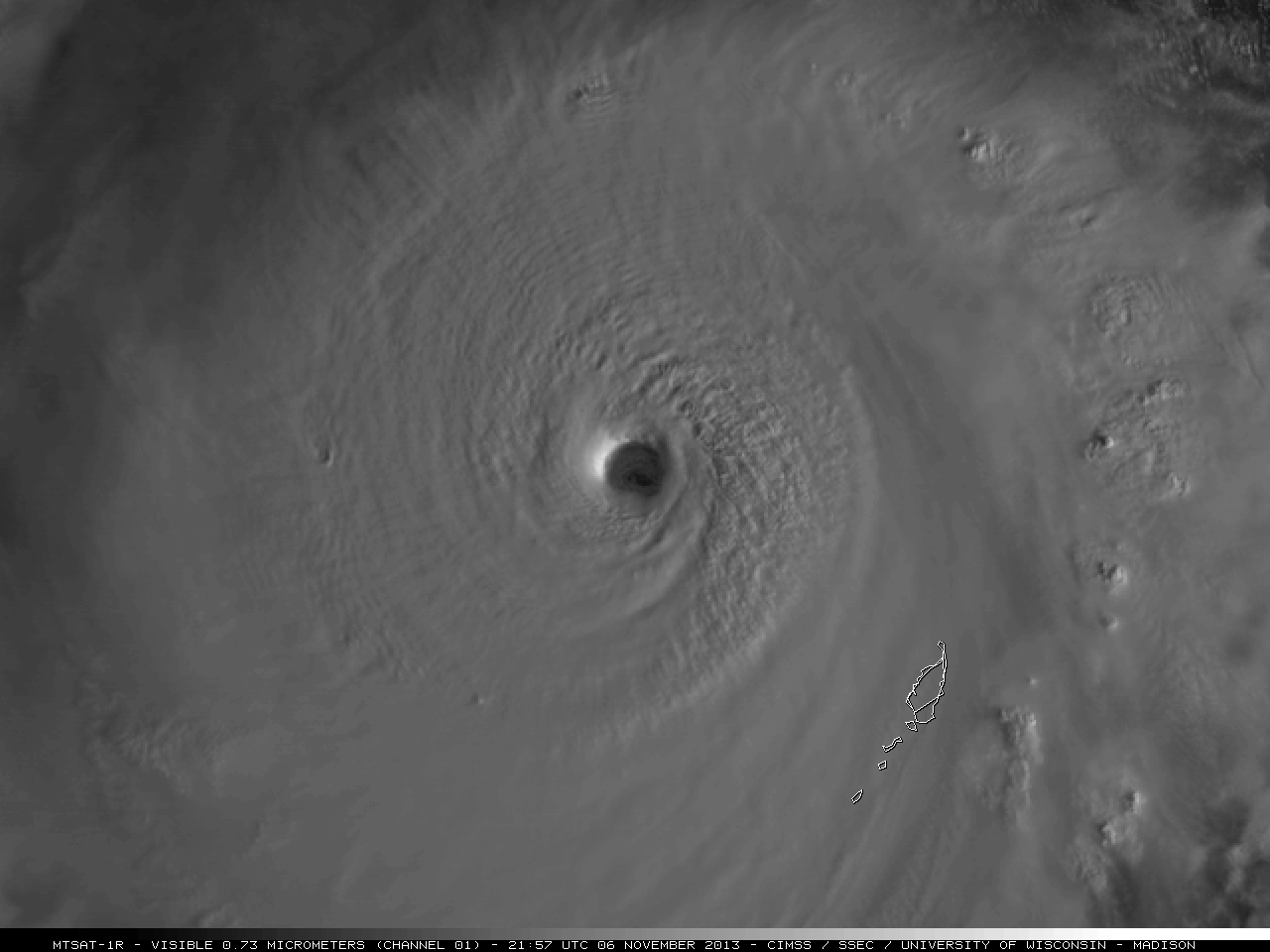 Comments