Eric Fisher on Mt. Washington. (WBZ-TV)
Find Eric Fisher on Twitter and Facebook
Confirmed: Summer is fully in the rear-view mirror. If you were holding on hope for warm days filled with sun and 70s, you may be out of luck without a vacation. Friday morning was the coldest since April 22nd across the Boston area, and Friday afternoon followed suit as the coldest since April 23rd with a high of 52º at Logan. To top it all off, it will actually be colder Friday night.
In fact it's been cold enough up north to keep the snow guns blazing and Killington opened up their slopes for skiers and snowboarders! Word on the street is that Sunday River is planning on opening up on Saturday, too. And our WeatherBug camera at Stowe Mountain Resort showed a pretty snowy scene, too. We even got snowflakes in Massachusetts on Friday! Here's the video from Rutland to prove it: http://vimeo.com/77791220. Novelty snow that came down briefly, but snow nonetheless! But it could be worse…the true anamolously cold air is in the southeast, not here at home. Temperatures are 10-25º below normal for places like the Carolinas, Virginia, Georgia, and Tennessee. Here, they're only running about 5-8º below average.
In general, our neck of the woods will be 1-4º colder than what we saw on Friday morning. So the range is 24-33º, with something more toward 35º in downtown Boston itself. Widespread frosty weather, and it will be felt all the way down to Cape Cod. Patchy frost is possible there, and the National Weather Service has Freeze Warnings/Frost Advisories up for all shoreline communities. If your flowers are still blooming, cover them up or bring them in! Mums will survive, but the flowers on them won't. They get 'frostbitten' and turn brown. What's the difference between the two warnings? A freeze is when temps will stay below freezing for several hours. A frost advisory is just when temperatures are expected to be at or near 32º briefly.
After that teeth-chattering night, we'll start out with a crisp morning on Saturday. Sunshine will give way to party sunny skies in the afternoon, but overall a dry and seasonable day with highs in the mid 50s. With an approaching cold front, the pressure gradient will tighten up in the afternoon so a gusty southwest breeze will develop at 10-25mph.
That front won't have much moisture to work with around here, so a few scattered showers is all we'll get Saturday night. Temperatures are cold enough where some of the higher elevations locally could see some wet snowflakes come down Saturday night or early Sunday morning. Nothing would stick, but much like what we saw today it's just a sign of the cooling times.
Skies clear out for Sunday, with more pleasantly seasonable conditions for the Patriots vs the Dolphis in Foxboro. Great for tailgating or in the stands, with no real impact on the game itself. Monday through Wednesday look dry and seasonable too, with highs in the 50s and lows in the 30s.
Our next shot for rain comes by late Wednesday or Thursday. The models are in nearly complete disagreement as to how things will evolve for the middle and late stages of next week. The GFS brings us significant rain, while the ECMWF builds a mild ridge over the Northeast and keeps us dry for much of the week. I'm leaning toward a drier solution that brings any moisture to our northwest on Wednesday and perhaps even on Thursday, with possibly some more significant rain by the end of the week. In any case confidence is extremely low, so don't go canceling any Halloween plans just yet. I'm actually hopeful for some rain, since it's been so bone dry dating back to mid-August here in southern New England. We shall see…
Also worthy of note – a year ago today Sandy was a Category 2 hurricane raking the Bahamas. However, this is the day when the NHC started to nail the exact track the unique storm would take. Below is the forecast from October 25th, and as you can see it's nearly perfect with the track Sandy would eventually take. We'll talk much more about Sandy and its legacy in the days to come. The 1-year anniversary of the storm is next Tuesday, the 29th.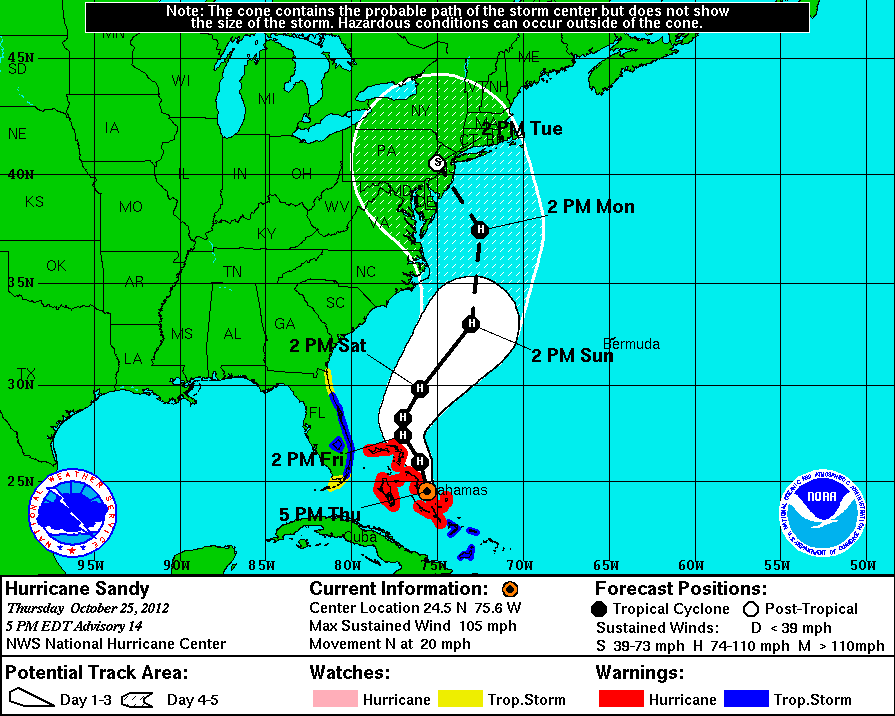 Comments